March News
Town Council Mayor
3/8/2022 9:48:34 AM
Nature and Us Survey
Have your say on the future of nature in Wales! 
 Please get involved with the conversation and spread the word in your communities through newsletters and social media.
 So far they have had a fantastic response to the national conversation – with over 2,000 people completing their online survey and over 250 organisations downloading the toolkit resources – including around 20 Town and Community Councils.
The workshops and interactive webinars also started this week and feedback has been positive so far. But they are still keen to get even more people involved – particularly capturing the views of young people, and seldom heard voices.
They are also really keen to hear from communities across the South Wales Valleys and North East Wales.
Could you share with local community arts projects that would be able to capture the voices of the community about what they love about nature, and what they would want to see protected for the future?
We really appreciate the support of the Community and Town councils so far throughout this process and helping to make Nature and Us a success.
Link to survey:
Nature and Us - What future do we want for our natural environment? - Natural Resources Wales Citizen Space - Citizen Space (cyfoethnaturiol.cymru)
The Corporate Joint Committee (General) (No.2) (Wales) Regulations 2022
As part of the phased approach to putting in place the legislative framework within which Corporate Joint Committees (CJCs) will operate, the Minister for Finance and Local Government is launching a consultation on the final substantive set of general regulations –the Corporate Joint Committee (General) (No.2) (Wales) Regulations 2022.
The eight week technical consultation on the draft general regulations builds on the comprehensive consultation undertaken in October 2020 which considered the general approach to the development of the legislative framework for CJCs, the consultation on the draft Corporate Joint Committee (General) (No.2) Wales Regulations in July 2021 and more recently the Corporate Joint Committee (General) (Wales) Regulations 2022 in November 2021.
We wish to seek your views on next stage of the approach to the development of the wider legislative framework and application of specific elements of that framework.
The draft regulations and consultation can be accessed via the Welsh Government website:  The Corporate Joint Committee (General) (No.2) (Wales) Regulations 2022 | GOV.WALES
The closing date for response is Monday 23 May.
We look forward to receiving your responses to the Corporate Joint Committee (General) (No.2) (Wales) Regulations 2022 consultation and to continuing to work in partnership to take this forward.
We would be grateful if you could highlight the consultation more widely by including a link to the consultation on your website.
If you have any initial queries please email: LGPartnerships@gov.wales
World Parkinson's Day
Tredegar Town Council are supporting World Parkinson's Day by lighting the Town Clock blue on 11th April 2022. We're turning Wales blue for #WorldParkinsonsDay to shine a light on Parkinson's - the fastest growing neurological condition in the world. There are around 145,000 people in the UK with Parkinson's, a brain condition that affects everyone differently, and gets worse over time. We can help people with Parkinson's in Wales to know they're not alone. Find out about support - https://www.parkinsons.org.uk/about-us/parkinsons-uk-northern-ireland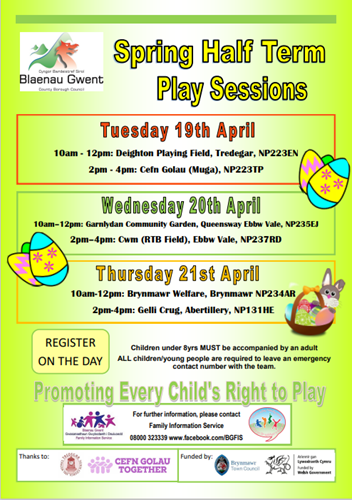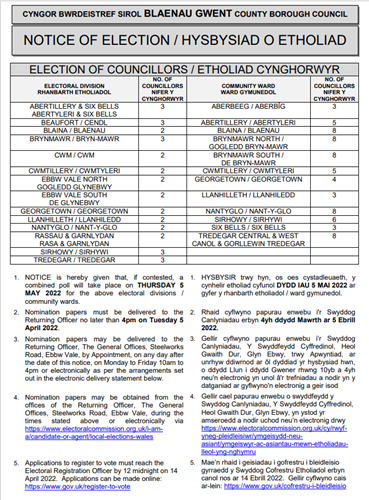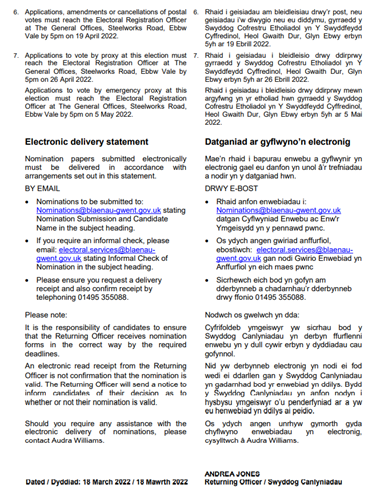 Ukrainian Refugee Crisis
The Russian attack on Ukraine has caused the displacement of many tens of thousands of Ukrainian people from their homes and marked the onset of what could be the largest humanitarian crisis in Europe for decades.
We understand that we all want to do what we can to help those who have been displaced in their hour of need. You will also be aware that the First Minister has already announced £4m of financial and humanitarian aid will be provided, along with medical supplies from our NHS.
However, as a Nation of Sanctuary for refugees and asylum seekers we in Wales need to do everything we can to support the Ukrainian people by providing a warm welcome and safety for those seeking refuge from the horrendous circumstances they find themselves in.
Our welcome of refugees and asylum seekers needs to include safe and secure accommodation. These needs will be immediate as well as longer term, and sit alongside the challenges we all face including from rising numbers of people at risk of homeless currently in temporary accommodation across Wales (c7500 at end December 2021) and the continued high number of further presentations.
Working together during the pandemic shows that we can find solutions to unprecedented challenges. However, supporting those who come to Wales will need us to be more creative, especially as we expect the majority of those who join us, certainly in the first instance, to be women and children.
We need to explore all options, including existing empty residential dwellings/ buildings; vacant sites, which could accommodate temporary dwellings; buildings in general that could be readily converted for residential accommodation or used for other purposes in supporting relocated refugees; and finally any new ideas/suggestions you may have to meet the coming challenges.
For LA representatives to be aware, Welsh Government officials are already working closely with Directors of Housing and a copy of the email issued to LA Chief Executives and Heads of Housing is attached. The email also included an accommodation schedule to be completed. The deadline for this return to be completed is close tomorrow, with responses being issued to UkraineResponse.Housing@gov.wales
Responses to be submitted by close Friday 18 March.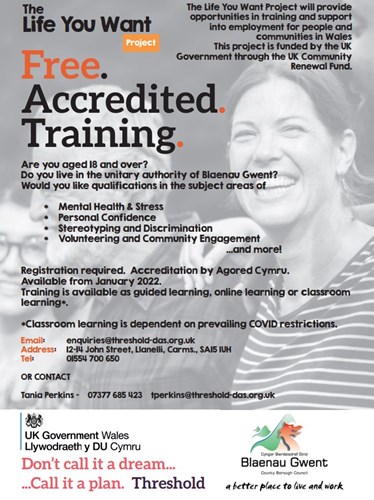 MEDIA RELEASE
'Fly a Flag' for the Commonwealth
 Pupils from each of the Primary Schools in Tredegar joined with civic dignitaries at Bedwellty House and Park to celebrate Commonwealth Day 2022. The event organised by Tredegar Town Council saw the raising of the Commonwealth flag on Bedwellty House before a short service celebrating the Charter that unites fifty-three sovereign states around the world.
 Tredegar Town Mayor, Cllr Gaynor James, read the Commonwealth Affirmation that states,
 'Joining together as members of one worldwide Commonwealth community, and valuing the personal dignity and worth of every citizen, we raise this flag as a symbol of the ties of kinship and affinity that we cherish. We draw inspiration from our diversity, and the opportunities for working together, as a rich source of wisdom and a powerful influence for good in the world. We affirm our commitment to upholding the values set out in the Commonwealth Charter, to serving one another in a spirit of respect and understanding, and to advancing development, democracy and co-operation locally, nationally and internationally.'
 The Commonwealth is made up of fifty-three sovereign states, working together in mutual support towards shared goals of democracy, development, and respect for diversity. It includes some of the world's largest, smallest, richest and poorest countries, with two billion citizens drawn from all faiths and ethnicities, half of them under twenty-five years old. Beyond the ties of history, language and institutions, members are united by values set out in the Charter of the Commonwealth including tolerance, freedom of expression, respect for human rights, the rule of law, protecting the environment, access to health, education, food and shelter, and gender equality.
Commonwealth countries come together voluntarily in a spirit of co-operation, partnership and understanding, and are located in six regions.
 Also present was Albert Skeates, B.E.M., who received his award for voluntary service to Mountain Rescue, the Scouts movement and The Moose, referring to the Commonwealth Charter and said, 'We recognise the important role that civil society plays in our communities and countries as partners in promoting and supporting Commonwealth values and principles, including the freedom of association and peaceful assembly, and in achieving development goals'.
 The Leader, Councillor Tommy Smith, said: "We are committed to ensuring that the Commonwealth is an effective association, responsive to members' needs, and capable of addressing the significant global challenges of the future. We aspire to a Commonwealth that is a strong and respected voice in the world, speaking out on major issues; that strengthens and enlarges its networks; that has a global relevance and profile; and that is devoted to improving the lives of all peoples of the Commonwealth."
 It was lovely for everyone to once again be able to join together to listen to the children, who spoke so beautifully, and Tredegar Town Council were extremely proud of the children participating in this annual celebration of the Commonwealth of Nations.