July News
Town Council Mayor
7/2/2020 12:20:37 PM
Tredegar Town Council would advise of the following in relation to the re-opening of outdoor sports pitches (should circumstances allow) from the 1st August, 2020, in line with strict Covid-19 guidance, in accordance with guidelines as laid down by each National Governing Body of Sport:
Appropriate Covid-19 signage will be erected at each site
All sporting organisations must undertake the appropriate Risk Assessment, prior to commencing training; use of the field is undertaken at users' own risk and subject to any enforcement within National Guidance in relation to non-approved activity
Low-contact training is permitted outdoors
Users must continue to stay 2 metres apart to ensure the safety of others
All sporting organisations must adhere to appropriate protocols with National Guidance; Club matches, friendly games and competitive fixtures are NOT permitted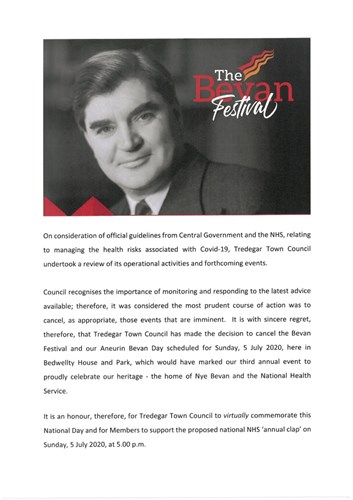 NOTICE OF APPOINTMENT OF DATE FOR THE EXERCISE OF ELECTORS' RIGHTS
Under the Public Audit (Wales) Act 2004
Accounts and Audit (Wales) Regulations 2014 (SI2014/337)
Tredegar Town Council
ACCOUNTS FOR THE YEAR ENDED 31 MARCH 2018
1. Date of announcement: 29th June 2020.
2. Each year the body's annual accounts are audited by the Auditor General for Wales. Prior to this date, any interested person has the opportunity to inspect and make copies of the annual accounts and all books, deeds, contracts, bills, vouchers and receipts etc relating to them for 20 working days on reasonable notice.  For the year ended 31st March 2020, these documents will be available on reasonable notice on application to:
                              Name                                                      Annette Jones
                              Position in Body                                        R.F.O.
                              Address                                                   Tredegar Town Council, Bedwellty House & Park, Tredegar Gwent  NP22 3XN
                              Phone Number                                          01495 722352
between the hours of 9am and 1.30pm on Mondays to Fridays (excluding public holidays).
                              Commencing on                                   1st September 2020
                              and ending on                                      28th September 2020.
3. From 29th September 2020 until the audit has been completed, Local Government Electors and their representatives also have:
the right to question the Auditor General about the accounts. The Auditor General can be contacted via

 

BDO: and
the right to attend before the Auditor General and make objections to the accounts or any item in them.  Written notice of an objection must first be given to the Auditor General via

 

BDO.  A copy of the written notice must also be given to the Council. 
BDO can be contacted at:
BDO LLP, Arcadia House, Maritime Walk, Ocean Village, Southampton SO14 3TL.  Tel: 029 2034 2777
4. The audit is being conducted under the provisions of the Public Audit (Wales) Act 2004, the Accounts and Audit (Wales) Regulations 2014 and the Auditor General for Wales' Code of Audit.